Details

Written by:

Garry Reisky

Category: Hardscape & Landscape
The purpose of steps is to allow people to pass from one elevation to another, with as little difficulty or inconvenience as possible. Steps need to be constructed properly, the rise and the run has to be within a certain a certain range or they just won't feel comfortable. The materials should feel solid and not feel hollow or wobbly. There are many factors that are considered when we design and set of steps and what materials will be used for their construction.
Retaining wall block
This method for step construction can work extremely well. They look great and integrate extremely well within a hardscaping project. These type of steps are susceptible to settlement if installation is not meticulous when it comes to the base and thorough compaction. With 20 years of building these type of steps we've learned a thing or two on how to avoid future settlement. The first is to fill the middle of the steps with an open graded aggregate. This makes it much easier to achieve 98% Standard Proctor Density. The second item that we add in is generous amounts of geosynthetics, namely geogrid. Geogrid helps lock all the base together in such a way that the steps move monolithic-ally and not independently.
Retaining wall block can be used for the base row of the steps and a different coping can be used for the step part. Bullnose copings or pitched (rockfaced) coping can replace the standard retaining wall coping. For a bullnose coping Brussels fullnose is the product of choice and a very nice pitched coping, that's Ledgestone. One last coping option is natural stone. With this amount of choices for materials and design possibilities using retaining wall block for step construction will always be a popular option
Slabs - Natural stone steps
Large slabs of stone, 6" thick and 6' wide, monolithic step construction at it's best. With the potential for settlement some clients prefer , slab steps. These steps can range from 3' - 10 wide, and from 5" - 8" in height, and 12" - 16" in depth. Depending on where the steps were quarried they could be sandstone, limestone or granite. Our favorite steps to install are Brown Wave sandstone, Silver Valley Grey limestone and Jet Black granite. There are many other varieties available. Watch the video below as I tour the stone yard.
Slabs - Concrete

Similar to their natural stone cousins they come in large slab formats. Generally speaking the concrete varieties will be 4' wide, 6" thick and 12" in depth.
Examples of steps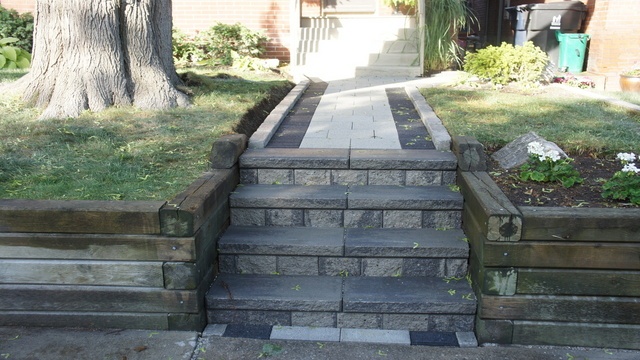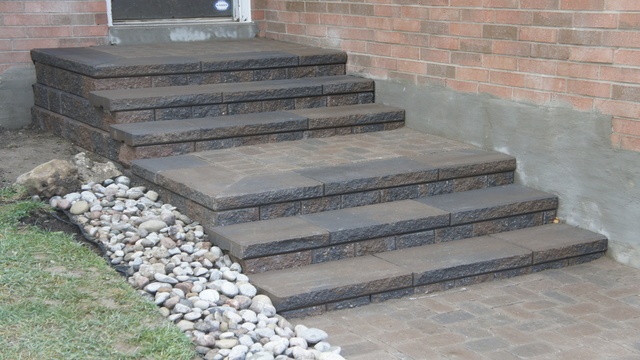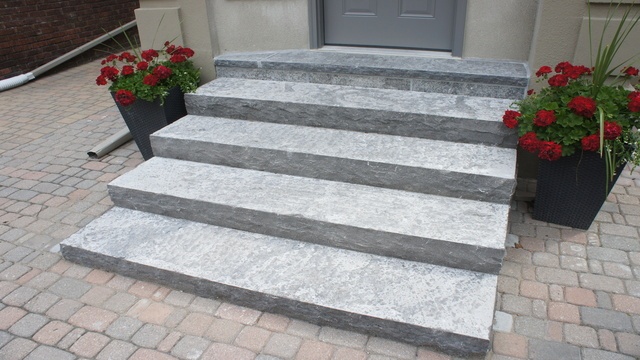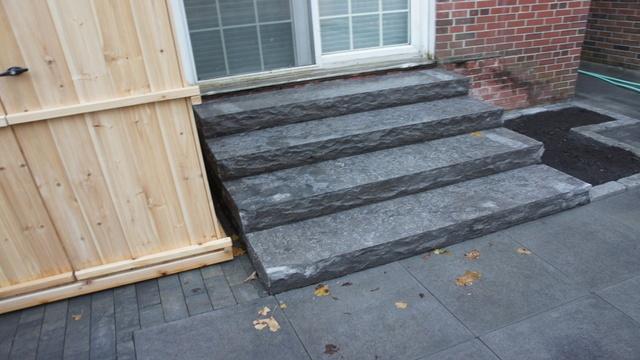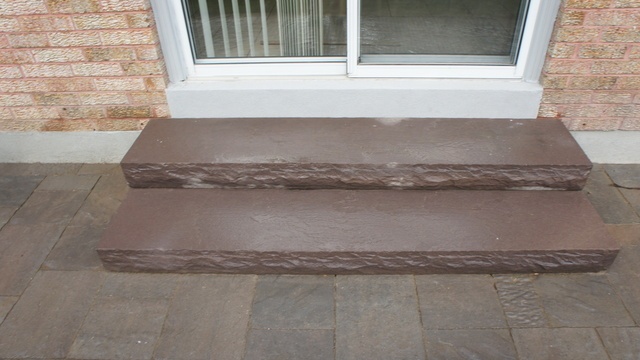 Details

Written by:

Garry Reisky

Category: Hardscape & Landscape
Design plays a pivotal role in any successful hardscape or landscaping project. I don't know how many appointments I've shown up to and walked away with the client's drawing. I can be hand drawn or sometimes computer drawn, the point is that the client has been thinking about their project and what they want. This is a great place to start because it makes the design process a lot easier.
Our process begins at this point, a 3d rendering will be produced and sent off for approval. Our current process uses computer generated images. An immersive environment certainly makes landscape come alive, Water, fire and lighting effects can be added. Below are some examples of previous renderings.