It's been about two years since Unilock introduced, Uvision 3d, a great software tool for professionals to aid with the design process. Visualizing a finished landscape or hardscaping project can be a difficult process. And for many people it's a skill they just don't posses, if it's something you just don't do every day it doesn't come easy. With so many options for hardscape materials, plant materials with their varied colours and textures. Co-coordinating how the whole project will look once completed can be a daunting task. With a significant investment in time and money, you want to make sure your vision get's executed and that your expectations from inception are met.
Should one material be used over another? How big should the patio be. Will our existing patio furniture fit, do we need to buy new furniture? Where will the barbeque go? If there is a large party will there be enough room for everyone? How big should the planting beds be, how big should the lawn be and the list will go on. These type of questions can be difficult decisions for many homeowners. In the past we have used the traditional 'plan view' or top down drawings for presenting our ideas across to the client.
If you look at the pictures below, the picture on the left is a typical representation of a tree in plan view. The picture on the right is a 3d model.

Plan view plants or 3d plants, you decide
Unilock Thornbury & Courtstone Landscaping Makeover,Lesslieville

Plan view plants or 3d plants, you decide
Unilock Thornbury & Courtstone Landscaping Makeover,Lesslieville

Plan view plants or 3d plants, you decide
Unilock Thornbury & Courtstone Landscaping Makeover,Lesslieville
Plan view plants or 3d plants, you decide
Unilock Thornbury & Courtstone Landscaping Makeover,Lesslieville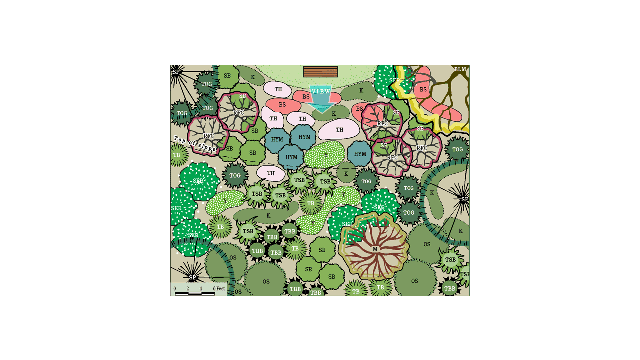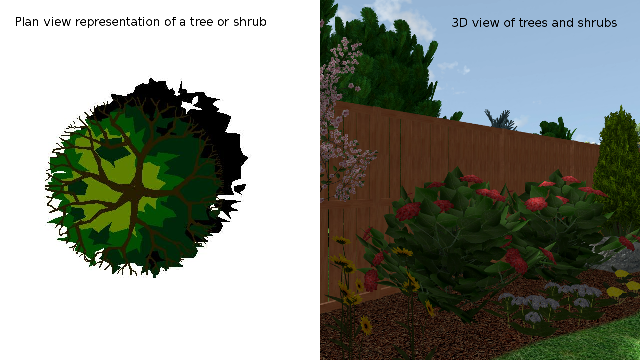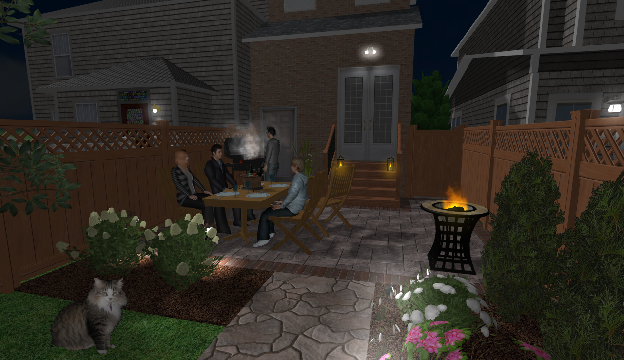 That's not to say I haven't seen some stunningly beautiful plan view drawings in full colour. These types of plans get closer and closer to pieces of art though. In the end they're still done in plan view and no matter how many pretty green and purple circles you put on it they are still hard to interpret if you don't look at these plans day in and day out. Producing these plans can be labour intensive and expensive, for your average landscaping project do you really need the cost and complexity of the traditional hand drawn 'plan view' style plan? This is certainly a question that could be hotly debated!
Here are some of the reasons why I like using 3d design software
In plan view many of the details are hidden.
Speeds up the decision making process by removing doubt.
Expectations are met because you see the finished project.
It's a fairly painless process visualizing what the finished project will look like.
Changes can be made quickly and easily.
Instills trust and confidence.
Lighting and fire elements can be displayed. Plant material can be shown in spring, supper, fall, winter.
Video walkthroughs, you have to see it to believe it, See below.
Below is the video walkthrough for this completed project. This video will take you through a "fly through." Also included are before pictures, than the 3d design, than the completed project.
For these homeowners their priorities were to add a patio and walkway in the back and also to replace and expand the front walkway. The front steps would also be replaced, if you look at the pictures for the front, from the ones below. These steps have too large of a tread or run, the rise is perfect but the run is just too large and this makes for an awkward step. It's just not a natural movement, as you go up the stairs you have to step forward excessively to reach the next rise.
In the back of the house there is a laneway, the homeowners built a 2 car garage so when they come home they park in their new garage and enter through the back door. If you look at the pictures there were some patio stones randomly placed to aid in the transition from garage to house but in spring and fall or any other rainy situations, this path would become a muddy mess, something needed to be done.
As I usually do, we started going through the Unilock catalogue discussing various materials. Reviewing the various paving stones page by page. We got to the Thornbury page and this struck a cord and we put this one near the top of the list of choices. After this I took my measurements, I went back to the office to render the project in Uvision 3d.
The first thing I send out are the screenshots produced from the 3d render, optionally a 3d video render can be produced. These are fantastic to watch but are not always necessary. For this project I suggested using courtstone for the walkway portion and borders. Thornbury would be used for the main portions of the patio and front walkway, a suggestion the homeowners loved. There was some tweaking tuning for the new deck location and sizing. Once that was complete the final patio design fell into place. The design was approved and it was full steam ahead.
The old deck was removed and while there were no obstructions in the way, the back wall was waterproofed. The homeowner built the deck and as he says. "If they can't find you handsome they better find you handy." Since we do the majority of our work in Toronto, this particular project was in leslieville, which means wheel barrow access only. Another consideration is where we store our materials. Fortunately we're highly experienced in dealing with these types of properties so it's just another day at the office. Deliveries certainly have to be tightly orchestrated, because we have to move tons of material out and bring in tons of materials. This is why it's important to deal with an experienced contractor.
The homeowners are extremely happy with how the project turned out. The wife commented to me, "I really liked these front steps, and it's one of the reasons we bought this house, but after getting these natural stone steps installed I have to ask myself, what was I thinking these stones steps are beautiful."
Materials Used on this projects:
Paving stones: Unilock, Thornbury , Mahogany colour.
Border stones: Unilock, Courtstone, Basalt colour.
Steps: Brown Wave Sandstone.
Wall: Unilock, Brussels Dimensional Stone, Mahogany Ash colour.
Pictures of the front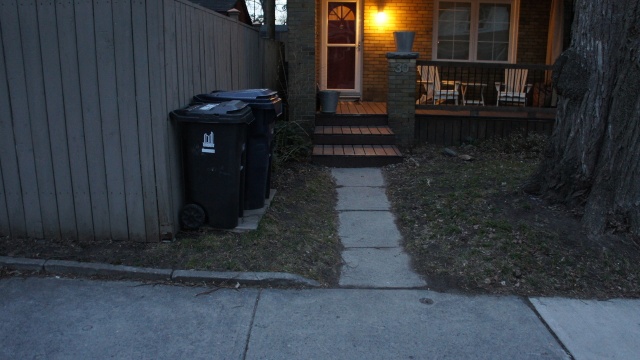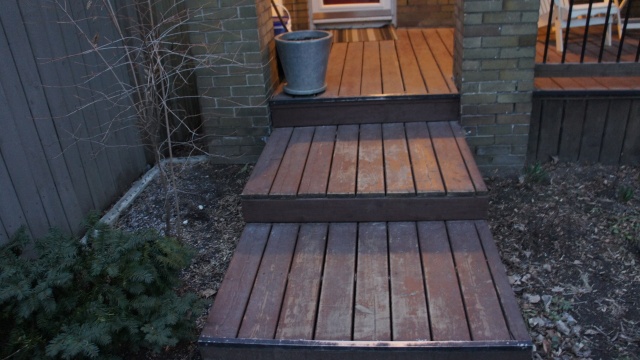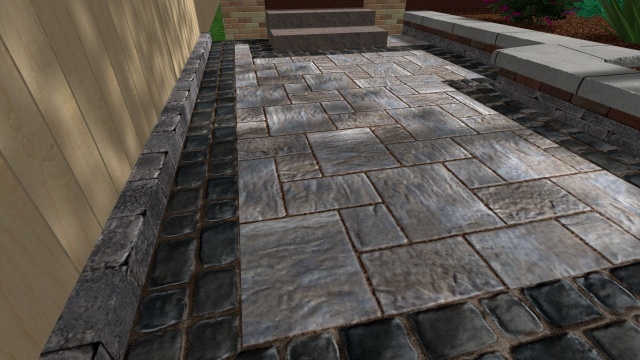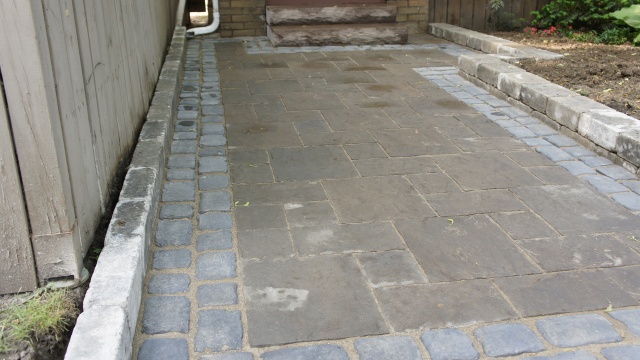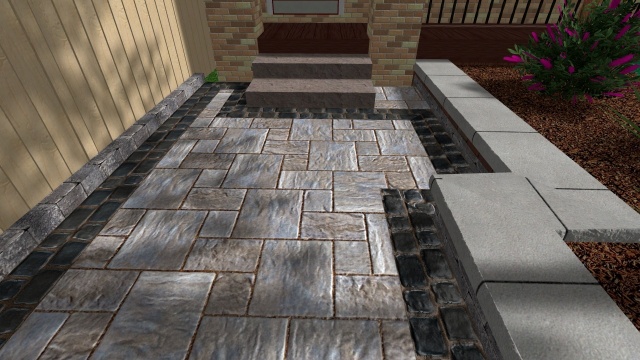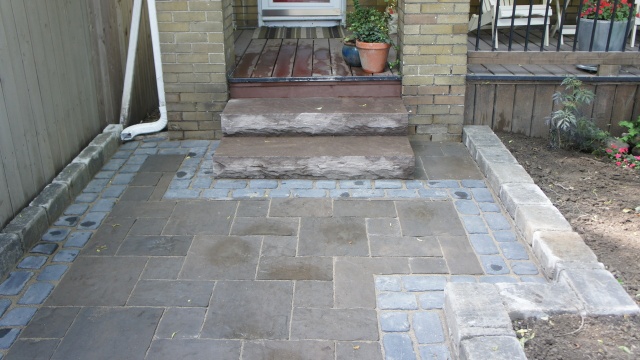 Pictures of the back