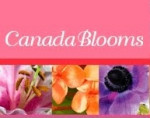 It's always nice when spring, in all it's glory, comes to town for five days. I was touring the show floor at Canada Blooms 2011 at the Direct Energy Centre in Toronto Sunday. Being in the hardscape business, of course my first stop was to head over to the Unilock booth. As I rounded the corner I saw my Territory Manager, Rob, talking to someone so I waited till he finished before saying Hi. They had a very nice layout with Umbriano, Richcliff, Courtstone, Copthorne. There was a raised area with Northshore and an interesting mini fireplace. What is this? Hmm somethng new? It's not in the catalogue. What is this doing here.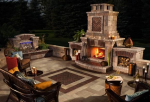 Unilock has been making a full line of elements at the Wisconsin plant for some time now. Apparently this year they have moved production over to the Buffalo plant to supply Ontario. I've loved the look of these units but, for the Ontario market, one question remains. How many people have the lot size that can handle them? Unlike our American neighbor's our lot sizes in Ontario are smaller. Not everyone sits on 3 acres.
This year we may see the introduction of the Urban, at least that's what I think they are calling this unit. The Urban is a small line of fireplaces made from brussels dimensional block, ledgestone and select pavers as accents. Just like their big brothers they will be UL compliant and are made with the same high quality adhesives. I have to say, Unilock is on to something here. I really like this unit. It's so cute isn't it? Can't you see it in your backyard? As far as I know this is a prototype unit and the final design may be tweaked slightly. Unilock usually releases new products in the summer so we'll just have to wait to see if they go into full production at that time.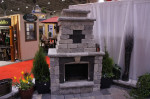 UPDATE for 2013

From what I have heard Unilock has discontinued the Urban model. Due to the restrictions for fire burning, more specifically "open air burning. In most places in Ontario, the Urban is not legal to operate. There is no gas insert for the Urban so this element is not considered an "appliance" therefore the decision was made to stop making them.
Reference: Fire Pits, Fireplaces, Burning in Toronto - Are they Legal