Large Format Umbriano Paver Patio
Details

Written by Garry Reisky
Hits: 547
If you have read one of my previous articles about the decline in popularity of the circle you might be asking yourself the question, the circle, it seems so timeless how can that not be popular. It's not so much that the circle isn't being used in hardscape design, as a matter of fact, the circle shows up a lot in projects with round fire pits and curved seat walls. What has fallen out of favor is the size of interlocking concrete paving stones, more specifically, the smaller sized paving stones that are used in making a circle are not currently desirable. The small wedges in a circle bundle and especially the 'twinkie' sized stone are not a fan favorite anymore. I'm sorry, but the twinkie, you're fired.
So what's actually popular these days in hardscaping? I'm glad you asked, currently many manufacturers of concrete paving stones have been producing large format pavers. Big is in, I mean BIG, how big? I have seen large size pavers ranging from 24" x 24", 16" x 32" and some special order products reaching 18" x 36". With the ever increasing sizes in dimensions so can the thickness vary depending on application. Some of the really large sizes may only be available in 90mm or 100mm or over 3" thick. These large sizes will generally be a minimum of 2" thick, manageable in terms of weight but still awkward to install. For all the aching backs out there yearning for the little stones with which you could easily pick up in one hand don't worry there are still many options in that category. However, the market has spoken and big and even bigger paving stones and slabs are currently trending, and there is no turning back.

It's all about accessThese are the front rock steps, this would be hard to go up and down all day with a wheelbarrow.

It's all about accessThese are the back steps, not as bad as the front ones but it's still narrow.

It's all about accessThe hill on the neibhbours side that saved us a lot of work.

It's all about accessThe front lawn, a rather long stretch from the work area, still easier than the rock steps.

It's all about accessGoing down the hill and a look at the big back yard.
It's all about accessThese are the front rock steps, this would be hard to go up and down all day with a wheelbarrow.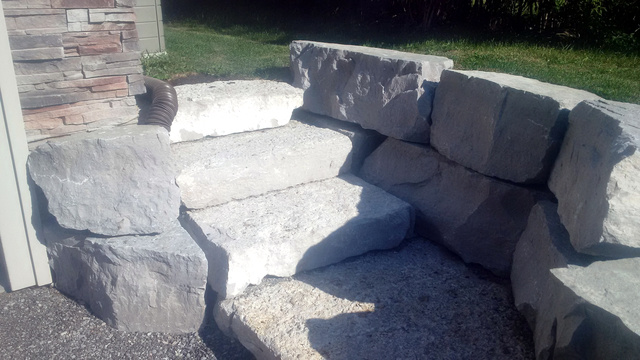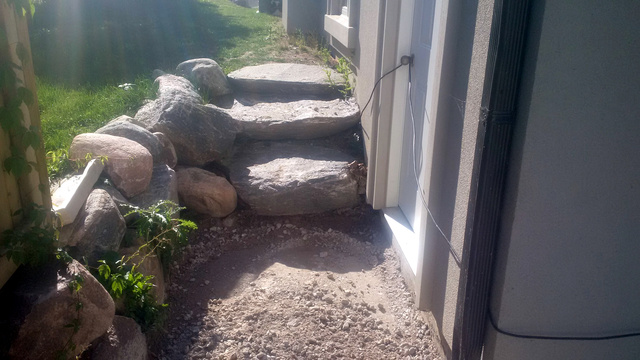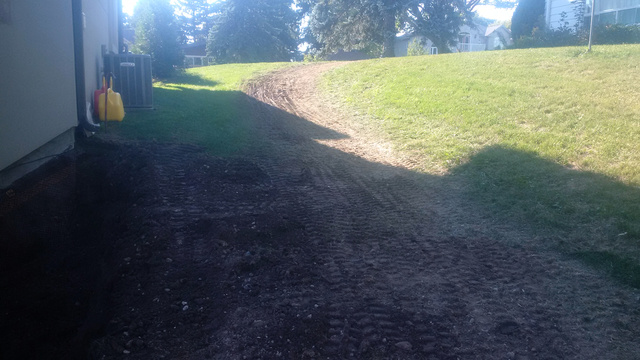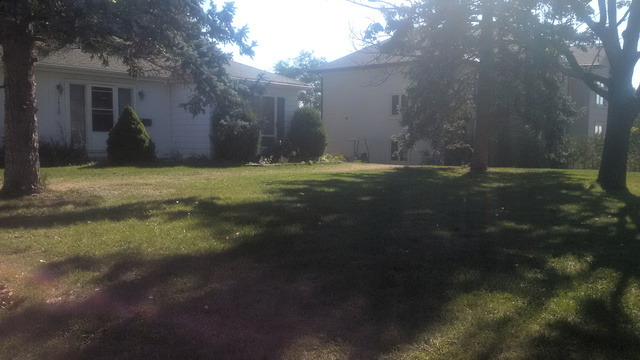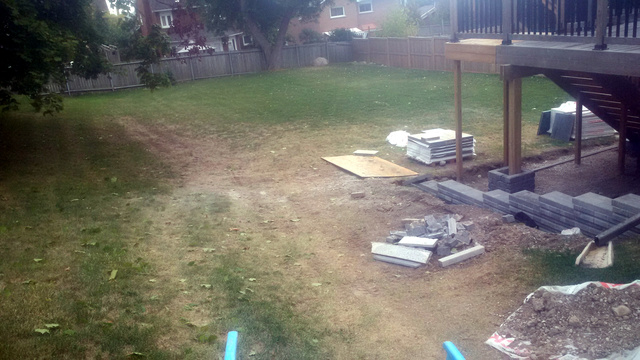 So when I was contacted about a driveway, I was thinking, large format, large format. For the driveways though, you don't want to go too big because the pavers might be prone to breaking, if they are not thick enough. In the future, if I look in my crystal ball, there will be options for large driveway stones because they will increase the thickness to over 3", we'll see how that works out. For now, my back is happy with the sizes that are currently available. For this driveway a stone was chosen that comes in 3 sizes, the biggest one coming in at 13"x16", not too big. The materials were finalized and we signed an agreement to install their interlocking concrete paving stone driveway. Instead of installing their driveway we did a complete 180 and installed their patio, something the homeowner's wanted to do, but weren't quite ready to pull the trigger on, the work on the patio was to be completed the following season. This might not seem to be the most logical approach but as you read on, it will eventually make perfect sense, I always make perfect sense, usually.